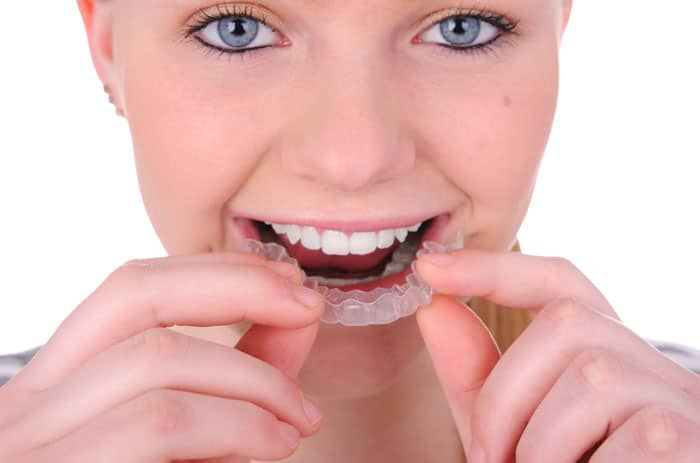 The cutting-edge Invisalign system has taken teeth straightening treatment to a new level and is constantly striving to add new technological innovations to further benefit orthodontic patients of all ages.

Each Invisalign device is unique to the patient and their teeth, which makes it suitable for both simple and complex orthodontics. This high level of customization, with the use of state-of-the-art 3D digital scanning and 3D printing technology, is just one of the factors in what makes Invisalign so special.
Invisalign aligners are made from medical-grade thermoplastic specifically developed for the purpose by Align Technology, the makers of Invisalign, and pioneers in material science and 3D printing for medical devices.
The Technology Behind Invisalign
U.S.-based global medical device company Align Technology launched the Invisalign system in 1999 as "the most advanced clear aligner system in the world", and it's since taken the world of dentistry by storm, revolutionizing orthodontic treatments for millions of patients worldwide.
The company says Invisalign treatment costs about the same as traditional braces and is covered by many orthodontic insurance plans. In November 2017, Align Technology announced a "significant milestone" – the number of Invisalign patients hitting the five million mark.
The Invisalign iTero scanner replaces physical teeth impressions and makes treatment easier for patients, being painless and non-invasive. The scans are sent to Align Technology labs where customized aligners can be produced quickly by 3D printing technology and with significantly fewer imperfections.
Three-dimensional printing may seem futuristic, but it's been around since the early 1980s, and is now much more mainstream for medical applications such as the creation of limbs and organs.
Why Choose Invisalign?
There are many reasons why millions of people opt for Invisalign treatment to correct crooked or misaligned teeth, and these benefits include appearance, convenience, unique customization, and comfort. Hi 5 Orthodontics talking about Invisalign has said, "Invisalign is the "Clear" alternative to braces… Because it is nearly invisible, you can straighten your teeth without anyone knowing."
Maintenance of Appearance
Metal braces draw attention to your orthodontic problem in a conspicuous way, but Invisalign clear aligners are so discreet that your facial appearance is maintained during treatment (you still look like you!) without the embarrassment that some people feel when wearing conventional metal braces.
Because each set of aligners is tailor-made for your teeth, they are easy to slip off for special occasions, although you'll probably find they're so comfortable and unobtrusive that you soon forget you're wearing them.
The fact that Invisalign braces are barely noticeable makes them a particularly popular choice among teens, who are generally renowned for apprehension about what other people think of their appearance. A psychology study in 2013 confirmed that adolescent self-consciousness peaked as a reaction to appraisal by others.
Convenience of Use
Wearing traditional fixed metal braces can have a big impact on your everyday life as you must adapt to new routines and behaviors. What makes Invisalign so special is that it allows you to get on with your life: you can simply pop the aligners out to eat and drink what you want, and you can remove them to take part in sports and similar activities.
Easy to put in and take out, Invisalign appliances look like clear plastic and are practically invisible, with smooth edges that cause less irritation of the cheeks and gums.
Invisalign also eliminates the difficulties associated with the wires and brackets of metal braces in brushing and flossing your teeth effectively, which, besides being far more convenient, lessens the risk of tooth decay and gum disease. And, unlike metal braces, there's no danger of an allergic reaction.
Customization to Fix Many Problems
Because Invisalign aligners are uniquely tailored to each patient's mouth and orthodontic treatment requirements, through precise and powerful digital technology, they are ideal to solve a wide range of dental problems. These issues include gapped teeth, an open bite or deep overbite, overcrowded teeth and underbites and crossbites – problems that can result in serious jaw disorders, loss of bone structure, and accumulation of bacteria-laden plaque and tartar, which can cause cavities and gum infections.
No Bad Taste in the Mouth!
Not only are Invisalign devices easy to wear, the whole Invisalign process, in the hands of an experienced dentist, is geared towards patient comfort. Three-dimensional computer imaging with an iTero scanner does away with the need for taking old-fashioned, messy impressions, notorious for leaving a bad taste in the mouth – literally! Besides sparing patients – particularly children and anyone with a strong gag reflex – from a stressful experience, digital imaging is faster and more precise than impressions.
One Potential Problem with Invisalign
Invisalign has proved to be a highly popular high-tech alternative to traditional braces that allows you to get on with your life with as little inconvenience as possible as your teeth are gradually repositioned in a series of precisely-regulated movements, providing far greater control than traditional braces. Each progressive alignment shifts your teeth closer toward the ultimate goal, which is usually attained within a year.
Nevertheless, there can be one drawback with Invisalign, depending on your choice of provider. Some dentists have their patients wear each Invisalign device in a series for two or even three weeks. The problem with this method is that the aligner can become grimy and smelly.
Why You Need an Invisalign Expert
Look for an expert, experienced dentist recognized as an official Invisalign or Invisalign Teen provider who advocates that patients swap out each aligner every week to keep them clean and fresh. Ideally, you'll find a dentist whose talents are recognized by the American Association of Orthodontists (AAO) and the American Dental Association (ADA) and is accredited as an Invisalign Premier Provider.
A dentist with these credentials will be happy to talk you through the whole Invisalign scanning process and customized treatment plan that will enable you to get the utmost from your Invisalign aligners – the most sought-after removable brace.
And when you've achieved your ultimate goal of healthy teeth that make you proud to show off the beaming smile you've always wanted, you'll be left in no doubt that this is what makes Invisalign so special.