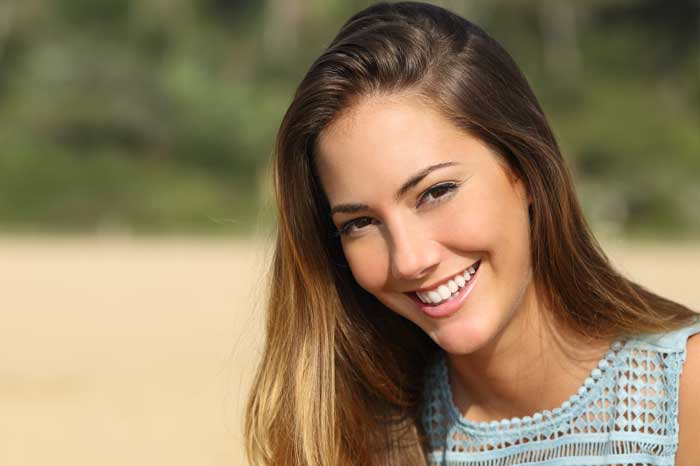 If you are a teen that has braces now or have been told by your dentist that you could benefit from orthodontic treatment, you are not alone. According to the American Association of Orthodontics, teenagers between the ages of 12 and 17 make up more than half of the two-million orthodontic cases in the U.S. each year. Even though braces are somewhat of a routine right of passage to adolescent health, it's common to have some mild discomfort while you adjust to life with braces.
Are you apprehensive about your new braces? Follow these tips for a better orthodontic experience, before long you'll have a beautiful smile you can't wait to show off.
Eating with Braces
What's safe to eat with braces? What foods should you avoid? These are some of the first questions teens with braces ask. Let's start with what you shouldn't eat.
When your braces are first placed, you may find comfort in biting on something crunchy to relieve some of the discomfort. However, eating crunchy foods in the long run can cause more irritation and may even break some of those braces off your teeth.
Whenever possible, you'll want to take the time to cut up your food. This will help prevent potential damage to your braces which sometimes results in an emergency trip to the orthodontist.
Foods to Avoid:
Crunchy foods: chips, ice, popcorn
Chewy foods: licorice, hard rolls, bagels
Hard foods: candy, nuts
Sticky foods: gum, caramel, taffy
Foods you have to bite into: carrots, apples, corn on the cob
General Soreness
When you first get your braces, it's common to feel general soreness in your teeth and mouth for the first three to five days. This can be relieved a little with a simple warm salt-water solution.
Just dissolve a single teaspoon of salt in 8 ounces of warm water; rinse vigorously. If the tenderness is severe you may take an over-the-counter pain reliever for relief.
It is also typical for your tongue, cheeks, and lips to become irritated the first few weeks after your braces are placed. Over this time your mouth will toughen and become accustomed to the presence of braces. Wax can help immensely with this transition. Don't worry, we'll show you how to place it and we have unlimited amounts for you.
Day-to-Day Care
After orthodontic treatment, your teeth will be easier to clean. But while you are wearing braces, food particles and plaque seem to always have new places to hide. Practice angling your toothbrush above and below your braces to remove this plaque build-up and reduce the chances of tooth decay.
Be prepared to spend two to three times longer on your tooth brushing routine while you have braces. Don't worry, it is worth the time. If you forego the right oral hygiene during your orthodontic treatment, you run the risk of having gum tissue problems and tooth decay. Plus keeping your teeth clean helps your teeth look and feel great when it's time to get your braces removed.
Oral Care Routine:
Remove: Remove bands, elastics, and any other removable part of your appliance.
Clean: Carefully clean your braces around and wires.
Brush: Once your braces are thoroughly cleaned, brush your teeth. Professionals recommend you spend 2 minutes, twice a day brushing your teeth when not in orthodontic treatment. However, with braces on we recommend after each meal and prior to bedtime.
Rinse: Rinse thoroughly and check for remaining food particles.
Floss: Floss once each day. Use dental tape, waxed floss or a special product that is designed to clean around and between your braces teeth. If you are using floss, thread it carefully under the wire before you slide it up and down gently on the side of each tooth. And if flossing is too challenging or time-consuming, use a water flosser or water pick.
Replace: Once your teeth and braces have been thoroughly cleaned, replace bands, elastics, and any other removable part of your braces.
If you enjoy using an electric toothbrush when you brush your teeth, there's no reason not to use one when you have braces on.  In fact, studies by American Journal of Orthodontics and Dentofacial Orthopedics have revealed that brushing with an electric toothbrush for those with braces promotes better oral hygiene.
Athletics
If you participate in sports or activities that involve a substantial impact, it's important to consult us for special precautions. When playing contact sports, it's advised that you wear a protective mouth guard. If you experience an impact to the head or face, you'll want to check your braces and your mouth right away.
If your appliances are damaged or teeth are loosened, phone us immediately for an appointment. If you are experiencing any discomfort in the meantime, treat yourself as you would any general soreness.
Loose Band or Wire
If a band or wire becomes loose, there is no need to be alarmed. This can happen occasionally. If the wire protrudes and becomes irritating, use something blunt (like an eraser or back of a spoon) to gently push it back and out of the way.
If irritation to the mouth or lips continues, place wet cotton or wax on the wire to reduce discomfort. In fact, in a bind you can even use chewing gum.  Remember to call our office at Top Nova Orthodontics to set an appointment for the repair of your appliance. If a piece happens to detach, bring it with you to your appointment.
Emergency Care
As a general rule, you'll want to call our office at Top Nova Orthodontics for an emergency appointment if you are experiencing severe pain, a broken wire, a loose band, or something else is sticking out that you cannot remedy yourself at home.
When you phone in the office, it's important to know the various parts of your appliances so that we can identify what part may be out of place or broken.
How Top Nova Orthodontics Can Help
When you are a teenager, eighteen months or more can seem like a long time to have braces. But by following these tips, you can ensure that your orthodontic treatment stays on schedule while avoiding any painful or costly setbacks. It will all have been worth it when your braces have been removed in the end, only to reveal a stunning smile you'll have for life.
If you or someone you know is interested in receiving orthodontic treatment, call our experts at Top Nova Orthodontics today to learn more!