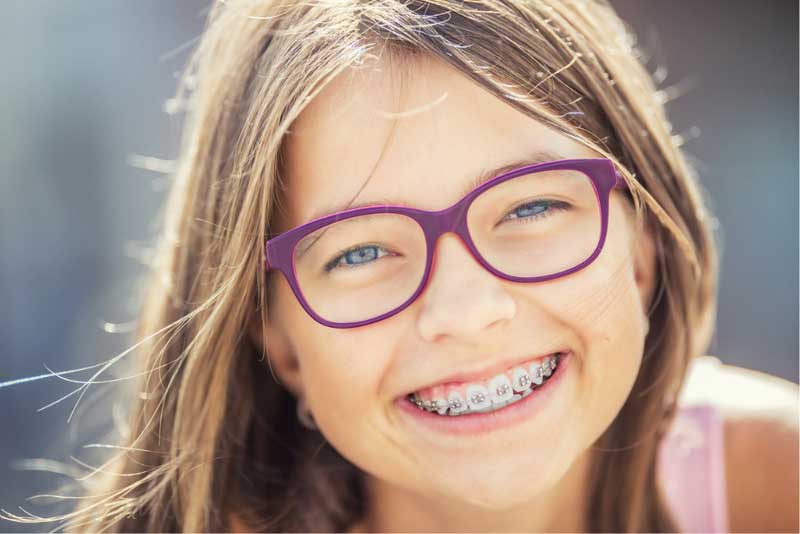 Braces aren't just an investment for the health of your teeth; they are an investment in the way that you look and feel for a lifetime. Your smile is one of the first features that other people see. Is your smile making the right impression? At Top Nova Orthodontics, we want all of our patients to have beautiful, healthy smiles that will make them feel confident. Why? We are attracted to beautiful smiles. Studies reveal that those with straighter and more beautiful smiles are viewed as more trustworthy, attractive, successful, and confident.
Besides looking and feeling great, a straighter smile can also reduce your risk of gum disease and tooth decay. Teeth that are aligned are much easier to clean, meaning that plaque has a more difficult time staying stuck on your teeth. Considering the health and aesthetic reasons behind getting braces at Top Nova Orthodontics, they really can change your life! When you set out to choose the right orthodontic treatment, there are a lot of options to choose from. Whether you are looking for conventional metal braces, Incognito lingual braces, or another type of orthodontics, our experts at Top Nova Orthodontics will work with you to find the best fit for your lifestyle and budget.
Traditional (Labial) Braces
Labial braces, more commonly known as traditional metal braces, are the ones that generally come to mind when a person thinks of orthodontic treatment. These braces have been a top choice for decades due to their affordability and fast-moving results. Traditional braces, consisting of two basic components, involve fastening a metal bracket to teeth and connecting them with a bendable metal wire. This wire applies pressure to the teeth, moving them into position.
In the past, the wires and brackets used for traditional metal braces were obvious and intrusive. Today, metal brace design is far smaller and less noticeable than their unfavorable predecessor. New technology has also fostered wires that move teeth faster and with less pain than in braces of the past.
The very best part about traditional metal braces, other than their effectiveness, is the fact that they are the least expensive option in orthodontic care. Teenagers also enjoy the ability to personalize their braces with colored rubber bands to surround each bracket.
The Pros and Cons of Labial Braces
Labial braces are more affordable than lingual braces.
Traditional braces require visits every 8 to 12 weeks.
Treatment is typically 3 to 5 months shorter than lingual orthodontic treatment.
In most cases, labial braces are considered to be mechanically superior, resulting in a more excellent finish.
Traditional braces are more visible than labial braces.
Lingual Braces
One of the most common reasons for teenagers and adults to avoid orthodontic treatment is because they find traditional metal braces distracting and unattractive. However, they still desire straighter teeth. This need has not gone unheard, as dentists have come together all over the world to develop less invasive, yet effective, orthodontic solutions. One of those we are proud to offer at Top Nova Orthodontics is Incognito lingual braces!
Lingual braces were first introduced in the 1980's. You might wonder why you've never heard of it before, and that's because many dentists don't offer this technique due to the specialized training required.  Because the brackets fasten to the tongue-side of your teeth, as opposed to the lip side, lingual orthodontic treatments tend to move your teeth more gradually.
Lingual braces require the same X-rays, photographs, and molds for treatment, including the extraction of wisdom or extremely crowded teeth. Unlike metal braces, every tooth must have an installment of wires and brackets. Each bracket is glued to the inner surfaces of your teeth, while elastics and wires are used in the same manner as traditional methods, just hidden from view. Just like conventional braces, cleaning teeth during treatment is longer and more complicated with lingual braces.
Special technical expertise and training are required to install lingual braces, contributing to the higher cost. However, the trade-off is that this orthodontic technique is virtually undetectable.
The Pros and Cons of Lingual Braces
Lingual braces are less noticeable and intrusive than labial braces.
Worried about visible decalcification? Lingual braces have lower cosmetic risks associate poor oral hygiene during your treatment.
Orthodontists have an easier ability to evaluate the aesthetic progress of a smile.
In the lower jaw, lingual braces are less efficient and less comfortable. Therefore, our dental professionals at Top Nova Orthodontics may recommend tooth colored braces on the lower jaw.
Some upper teeth may require clear buttons on the outside. Elastics are visible on these buttons.
In some cases, the upper lingual braces may have to be removed and replaced with labial braces during the last 3 to 6 months of treatment for better results.
Incognito lingual braces require visits every 6 to 8 weeks.
Other Braces
When it comes to orthodontics, there are more than labial and lingual braces. Top Nova Orthodontics also offers:
Invisalign – Those looking for a less invasive option than even lingual braces may consider Invisalign. These transparent aligners are nearly invisible and can be removed for cleaning, drinking, eating, sports, and special events.
Ceramic Braces – These white braces are made from a ceramic material and designed to blend into your natural teeth. They have the full functionality of traditional metal braces, except the wires and brackets are crafted to be white so that they are less noticeable against the teeth.
Improve Your Smile Today
When you decide to improve your smile, we strive to give you the options you need to fit your lifestyle. Both lingual braces and traditional metal braces are proven to straighten your smile quickly and efficiently. The dentists at Top Nova Orthodontics have the expertise, experience, and training to install conventional metal braces, lingual braces, and other orthodontic treatments, so you can feel confident about your smile.